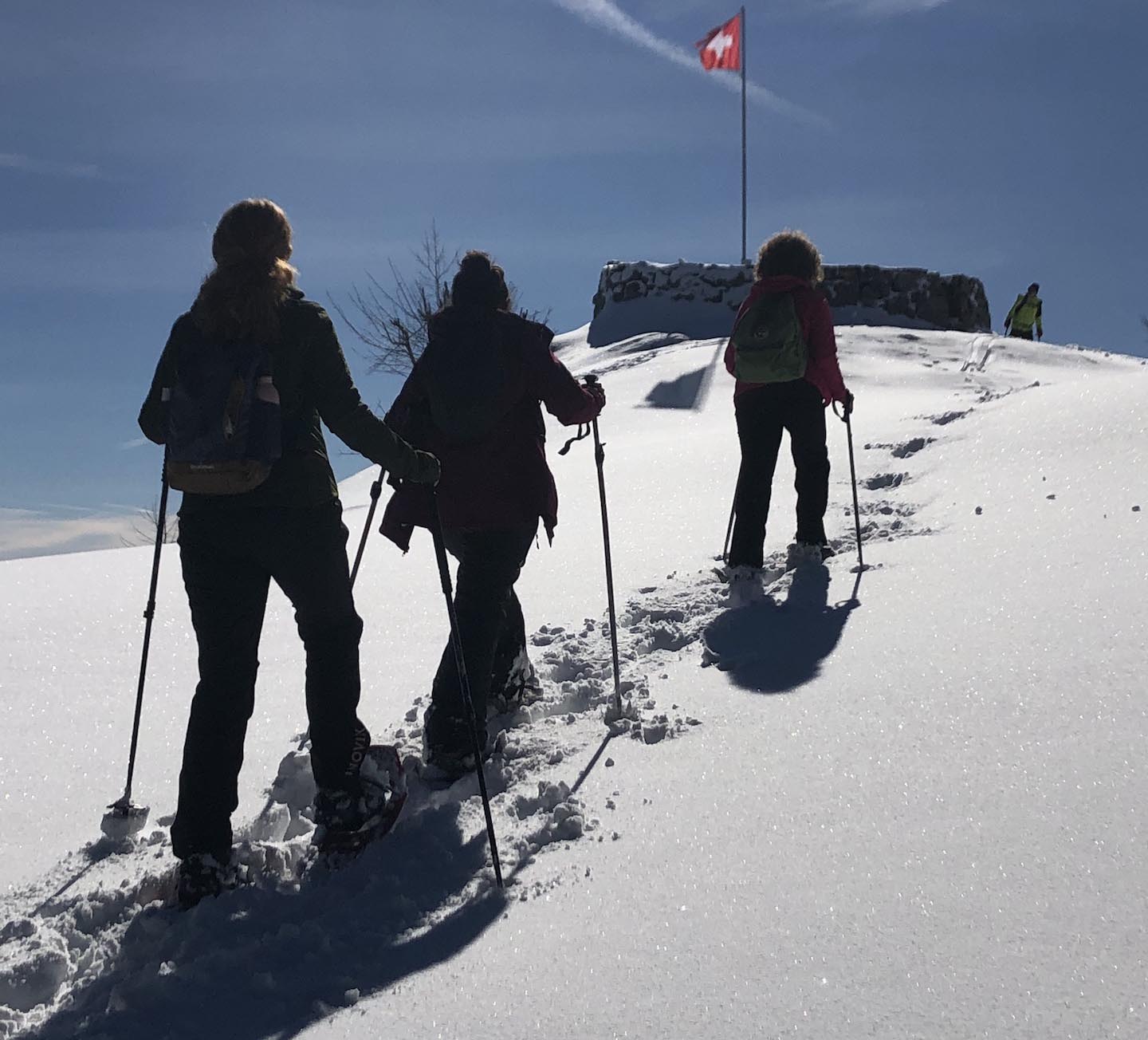 18 Jul

Corporate events Switzerland with Mountful Hikes!
Corporate events Switzerland? With Mountful Hikes!
Corporate events Switzerland: Do you want to experience an unforgettable team outing with your colleagues? Then I definitely recommend you to go snowshoeing in Switzerland! During our trip you and your team will be surrounded by beautiful mountains and snow in Switzerland. We will also have several team building exercises in the mountains for fun and with a spectacular view. For dinner you can choose to have food prepared by our own chef, but you can also go to a restaurant on the mountain slopes. Are you already excited to find out more about snowshoeing in Switzerland? Then continue reading!
Corporate events Switzerland, are you ready to hike?
The beautiful and well known snowshoe trails in Verbier Switzerland (Wallis) or Jura Vaudois. You can choose for a half day, a whole day or a multiple day trip. For an overnight stay you can choose between a comfortable hotel or a mountain cabin. The hike to one of these amazing destinations will be the perfect opportunity to get to know your team better! Do snowshoe trails in Switzerland sound interesting? And do you want to get inspired and experience a fun way of team building? Have a look at our website for more information!
Christmas getaway with a white view.
Do you want to have a remarkable Christmas getaway with your team? Then a day snowshoeing in the mountains would be a great idea! The beautiful snow in Switzerland immediately puts you and your team into the Christmas atmosphere. It's time to dream away in your Christmas bubble!
After having arrived we will have a nice Christmas dinner in the mountain restaurant. You can make this trip even more memorable with an overnight stay in the beautiful mountains. This Christmas getaway is the perfect opportunity to have fun and bond in a special way with your team!
Corporate events Switzerland: Teambuilding in the snow? Let's do it!
Corporate events Switzerland is the ideal way to develop team building skills together! The goal of Mountful Hikes is to stimulate this in a challenging way. That's why we have a lot of options that complete the wishes and desires of your corporate culture. You can choose from: team building in the mountains, leadership trails and there are many more activities!
To create a bond with your colleagues, team building can provide a great experience. And we are sure that you and your team are having a good time. Team building stands for a pleasant experience together! How great would it be to have a wonderful time in Switzerland? With a view of the snow, together with your colleagues. With Mountful Hikes as your host, this great time together will be an unforgettable experience? Have we aroused your interest? Join one of our trips and take your company's team building skills to the next level!
More information about Corporate events Switzerland or team building with Mountful Hikes?
Would you like to receive more information regarding our team building activities, trips or something else? Don't hesitate to contact us! We also recommend you to read the information on this website.
Which tour is best for you? Have a look at other activities like: breakout sessions, teambuilding, leadership trails and winter outings. Would you like to know more about me? Read my story on the about page! In case you consider joining one of the Mountful Hikes trips, I hope to welcome your team soon!